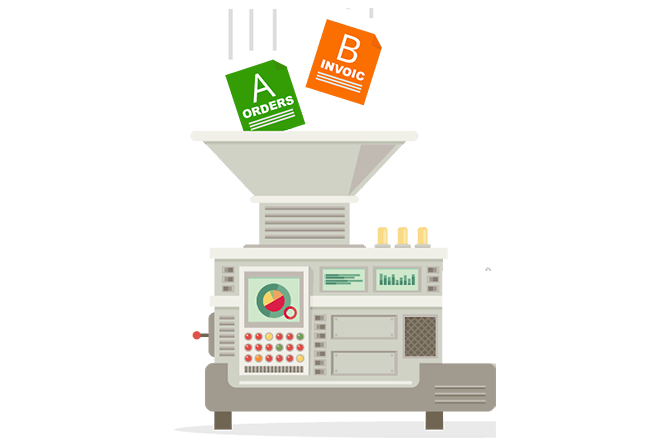 Auto Complete – Anreicherung der Beleginhalte eingehender EDI-Nachrichten
USING EDI INTELLIGENTLY WITH SOFTZOLL: AUTOCOMPLETE—ENRICHMENT OF INBOUND EDI MESSAGE DOCUMENT CONTENT Topic
Many ERP systems require a defined minimum data quality to process inbound documents such as orders (ORDERS) or delivery notices (DESADV).

However, not all customers deliver the data content required to be able to process the documents flawlessly. This missing information prevents automated import and subsequent processing in the ERP system.

In order to guarantee the integrity of the inbound data streams, the inbound documents must be consolidated in an automated way.
Solution
All Softzoll EDI solutions are able to enrich inbound documents with data from one or more internal or external data sources.

Missing document data can be extracted from external database tables or file-based interfaces.

Before propagating interface files to the ERP system, the inbound documents are automatically enriched with the external content (e.g., the address of the recipient of the goods in inbound ORDERS, recoding of customer item number in the supplier-specific item number, etc.).
Benefit
No labor-intensive manual post-processing

Cost savings by ensuring the automated processing chain

Elimination of error sources through manual additions

Securing data integrity and therefore increasing customer satisfaction
Keywords
Softzoll, EDI, EDIFACT, EDI data enrichment, EDI data completion, EDI data recoding, EDI document consolidation, securing data integrity