The all-round talent for your internal and external data interaction
Once upon a time... there was a quite simple client.
The Softzoll Communicator was developed to provide those customers with simple access to the EDI solutions that are centrally available in the Berlin data processing center in whose merchandise management systems the required communication modules are not integrated (e.g., IBM FTP Service, SAP HTTPS Connector). This client was therefore originally planned merely as an intermediary between the data processing center and the user's IT infrastructure. High demand quickly confirmed that many customers neither have an integrated module, nor are interested in acquiring a third-party product on the market for data reconciliation between an EDI system and their own IT environment that may generate additional support costs.
Integrating your content in optional database structures
The Softzoll Communicator can additionally be provided with a special add-on that allows the integration of EDI-generated content in an optional RDBMS structure. The need for functionality like this is the result of some user scenarios requiring internal database structures to be directly populated (e.g., filling special tables for processing order data, reading one or more database tables including third-party applications to generate delivery notices), while at the same time all processing of the EDI processes and communication paths should, however, take place in the data processing center.
Many companies prefer to implement the required EDI connections in a data processing center-supported option, but for ERP integration require a connection and population of internal application-specific RDVMS table structures. These scenarios are frequently found in proprietary ERP developments or in ERP systems in which the use of highly complex interfaces is to be avoided for cost reasons. Although certainly conceivable from a technical point of view, a direct connection to the relevant table structures by database gateway over the Internet is avoided for security reasons in such cases. Opening up the corporate database to external access via the Internet is to be prevented in virtually all application scenarios. he usual file-based data interchange with data processing center-supported EDI solutions finds itself opposite a completely automated database integration.
Full Service Hosting—interchange over internal database table(s) using the Softzoll Communicator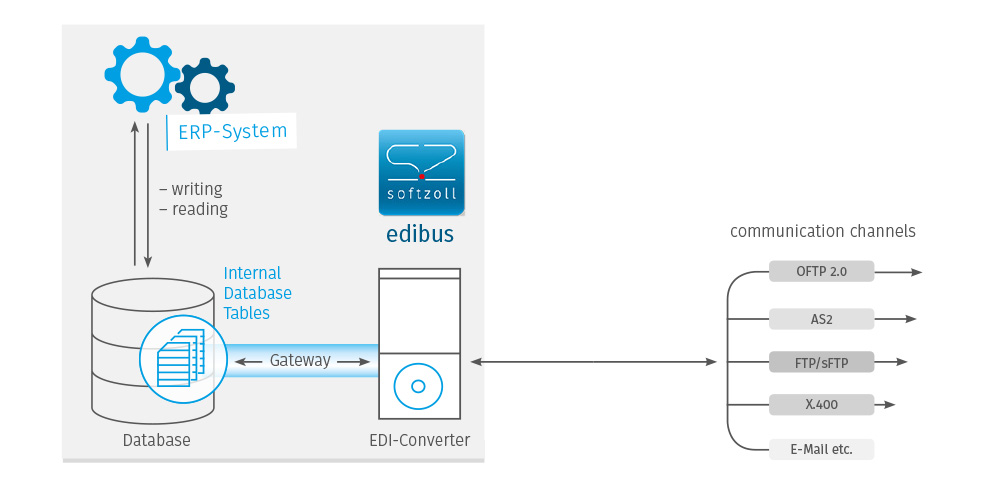 This add-on therefore makes it possible to intelligently connect two previously separate worlds with each other. Our customers benefit from all the advantages of an EDI solution in outsourcing operation; at the same time, they have the option of being able to introduce all their know-how in providing content-related table structures at database level without having to deal with EDI-specific format definitions. All desired and usual database tools can be used to populate the contents of EDI processes technically. Our customers only have to provide the database-specific driver (e.g., ODBC), on the basis of which the Softzoll Communicator sets up a gateway for the population of content for each business process.
Besides connecting one or more user-defined integration tables, Softzoll on demand provides a central integration table, which, on the basis of ISO 9735, already takes into account all framework conditions of global data interchange (e.g., field lengths, decimal places).
Monitoring and traceability have become even more convenient!
Our development team is currently working on the next generation of the Softzoll Communicator. This promises a new dimension in the monitoring and the traceability of data interchanges. For patent law reasons, however, we are unfortunately unable to discuss the future features at this point.