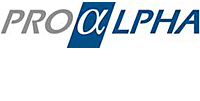 Illustrating project-specific variations without additional cost using the Softzoll modules
With the pAI interface, proAlpha provides a robust ASCII/TXT interface to connect third-party systems, which has been used in various customer projects for many years. In practice, despite standardization, project-specific characteristics of this interface must, nonetheless, often be considered. Using the Softzoll/proALPHA ERP templates, these can be considered in the respective customer projects without expensive programming. The basic technology of the proALPHA pAI interface also allows processes not planned in the standard to implement interfaces related to the application case. Currently, for example, some producers of private brands for Edeka are encouraged to implement logistic requirements that call for the creation of individual pAI interfaces. On the basis of the long-standing customer relations with proALPHA users, interfaces have therefore already been developed that extend the proALPHA scope of supply, such as getting inbound goods notifications. All Softzoll EDI solutions contain a dedicated pAI module that is able to map both the standard pAI interfaces and their application-specific variations without additional cost.
Realizing project-specific special interfaces on uniform terms
Softzoll ERP templates for the proALPHA pAI interface allow the users not only to implement the standard pAI processes at a fixed price, but also include realizing project-specific special interfaces at uniform terms.