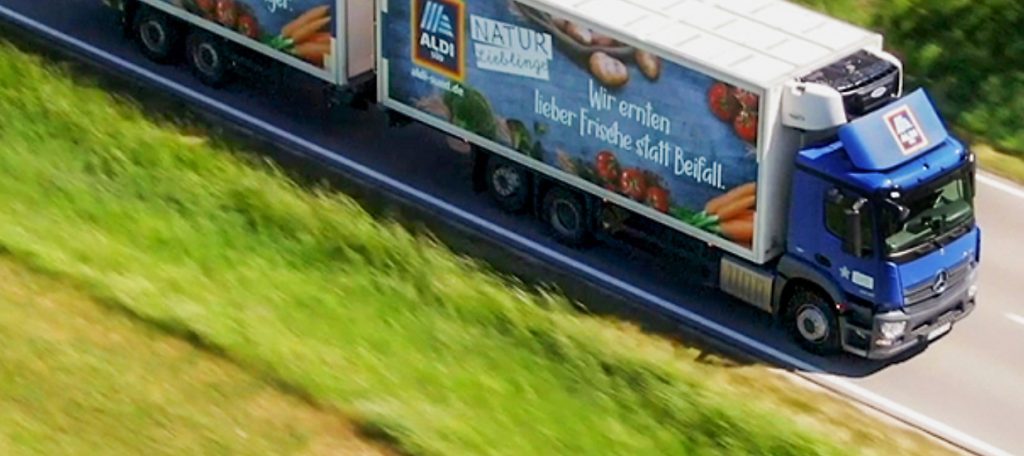 Aldi logo (Aldi Süd, Aldi Nord)
Electronic data exchange with Aldi
Automate your process flows with Aldi
As one of the largest grocery chains, the Aldi Group had estimated global sales of approximately US$106.2 billion in 2018. In addition to its European core market, the discount grocery chain also operates around 1,900 stores in the USA.
For a big player in an industry with an extremely high volume of messages and documents, Aldi was rather a latecomer in terms of switching to electronic document exchange using EDI processes.For some years now, however, Aldi's digital strategy has also included the group-wide implementation of basic EDI functionalities in order to be able to communicate with its suppliers and business partners using digitized business processes.
EDI connection for Aldi suppliers—supported protocols
In order to be able to exchange digitized EDI data with Aldi as a supplier, a number of conditions must be met: among other things, you must be listed as a supplier with Aldi and have a valid GLN or DUNS number. These are the basic requirements for electronic document exchange with Aldi. More detailed information on Aldi's EDI requirements is available here.
For sending and receiving EDI messages, Aldi supports the AS2, X.400, and SFTP protocols, although the focus is increasingly on the AS2 protocol.
The following are some of the Aldi national subsidiaries available for EDI data exchange:
Aldi EDI connection in the USA via ANSI X12
A peculiarity is the connection of the US branches. Here, the ANSI X12 message types ANSI X12 850 (Orders), ANSI X12 860 (Order change), and ANSI X12 810 (Invoice) are primarily used. In addition, Aldi uses the ANSI X12 message 997 (Functional Acknowledgment) receipts for previously sent invoices in ANSI X12 810 format.
Softzoll can manage these confirmations automatically and generate a corresponding warning via a special alerting feature in case of missing receipts without having to set up an ERP interface for this EDI business process specifically. The usually very cost-intensive ANSI X12 messages for the EDI data exchange with Aldi USA can be provided by Softzoll to Aldi suppliers ad hoc and at extremely favorable conditions.
Fast and seamless Aldi EDI integration with Softzoll
As your EDI Service Center, we not only take care of the usual basic EDI services for you; if you wish, we can also relieve you of all technical and organizational tasks relating to the electronic data exchange with Aldi. Adjustments due to changes in Aldi's requirements are automatically implemented by us, so that your supply chain with Aldi always runs smoothly and without delays.
Softzoll supports you in the Aldi EDI integration process, from testing and validation of message types to the real exchange between the Aldi system and you as a business partner.
Get in touch with us!