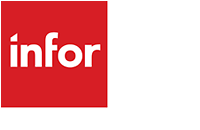 A broad portfolio of ERP systems for the process-oriented manufacturing industry
In the past, Infor carried out a strategic realignment by migrating ERP Baan IV (mostly Baan 4c4) and its preceding versions to Infor LN. With the purchase of additional ERP systems such as Blending SQL, Infor today offers a broad portfolio of ERP systems. Their focus mainly is on the process-oriented manufacturing industry. While systems like Infor Blending are built on XML-based interfaces, Infor LN uses an ASCII-based interface technology that, from a technical viewpoint, represents an enhancement of the Baan-Bemis interfaces. For implementing the EDI interfaces, Infor offers premium-quality documentation on the Internet. In the individual projects, this then only needs to be slightly adapted for the respective use case.
Standardized ERP templates for ASCII and XML at fixed prices
To connect the desired business processes, Softzoll provides standardized ERP templates that have been proven in many customer scenarios at a fixed price. If necessary, project-specific adjustment is not a problem. This applies both for the classic ASCII variant and also for XML derivatives.
An important aspect in integrating Baan or Infor LN ERP interfaces for EDI communication is that many Baan or Infor ERP systems require version-specific semaphore control for internal monitoring and for the proper processing of the interface files. Depending on the version, this control has to be adapted to the custom-designed application.
Optimal use of Infor with the Softzoll Communicator
Only a few EDI suppliers can implement semaphore control appropriately. With the edibus converter, Softzoll offers an appropriate module for individual support of semaphore control in in-house solutions. In outsourcing, ASP, or data processing center solutions, almost no solution provider guarantees such control.
The Softzoll Communicator provides a broad range of solutions for this requirement. Aside from the control of data transmission to the ERP interfaces from and into our data processing center, this component can also handle all current communication routes (e.g., FTP, AS2, OFTP2). For users who also require professional, local semaphore control in their own IT infrastructure in data processing center operation, Softzoll Communicator offers both transaction-secure data reconciliation with our Berlin data processing center, and complete provision of semaphore control to support the relevant requirements of the in-house Infor ERP system. To this end, a specially developed dispatcher that monitors the semaphore control for correctness can also be provided.
The user therefore benefits from a synchronous or asynchronous transaction protocol with the Softzoll center in Berlin, coupled with the integration of Infor's internal semaphore control. The dedicated functionality additionally ensures transaction-secure data interchange using the Infor LN interface modules. With the ERP-specific semaphore control, the EDI connection to the Baan/Infor ERP system is virtually semi-synchronous. This way, all advantages of the Infor functionality as far as monitoring and processing control are concerned are provided for the user.
Softzoll, the partner for Infor ERP systems
Entiac specializes in solutions around the Infor LN ERP system and, in particular, provides small and medium-sized customers in the automobile and automobile supplier industry with future-oriented solutions in discreet manufacturing. Planning and carrying out re-engineering projects, implementing operational ERP standard software, and developing forward-looking logistics and control solutions comprise the essential focus of this field of activity.
www.entiac.com
As a long-term distribution and implementation partner of Infor, Konica Minolta offers its consulting expertise to medium-sized companies to support the introduction of the ERP Infor LN. The project is supported by Konica Minolta all the way from planning through to ongoing operations. In the EDI environment, in particular, the experienced Konica Minolta specialists have many years of expertise in the parameterization of the required Infor EDI interfaces and can look back on various successfully implemented projects with Softzoll.
www.konicaminolta.de