Electronic data interchange in the logistics industry
Efficient supply chain management and just-in-time supply chains—Softzoll's EDI tools ensure optimal networking with your logistics partners
Ever shorter delivery windows at OEMs and retail supply chains are increasing the demands on both suppliers and, above all, logistics service providers such as freight forwarders. Innovative companies that know how to deploy digital technologies early on have a clear competitive advantage here thanks to more efficient networking with their business partners.
According to a study by the German Federal Association for Information Technology, Telecommunications, and New Media (Bitkom) on the subject of digitization in logistics, eight out of ten companies with logistics processes use digital applications to handle their day-to-day business, and the trend is steadily rising. Approximately 500 companies from various industries with an above-average share of logistics processes were surveyed (see chart).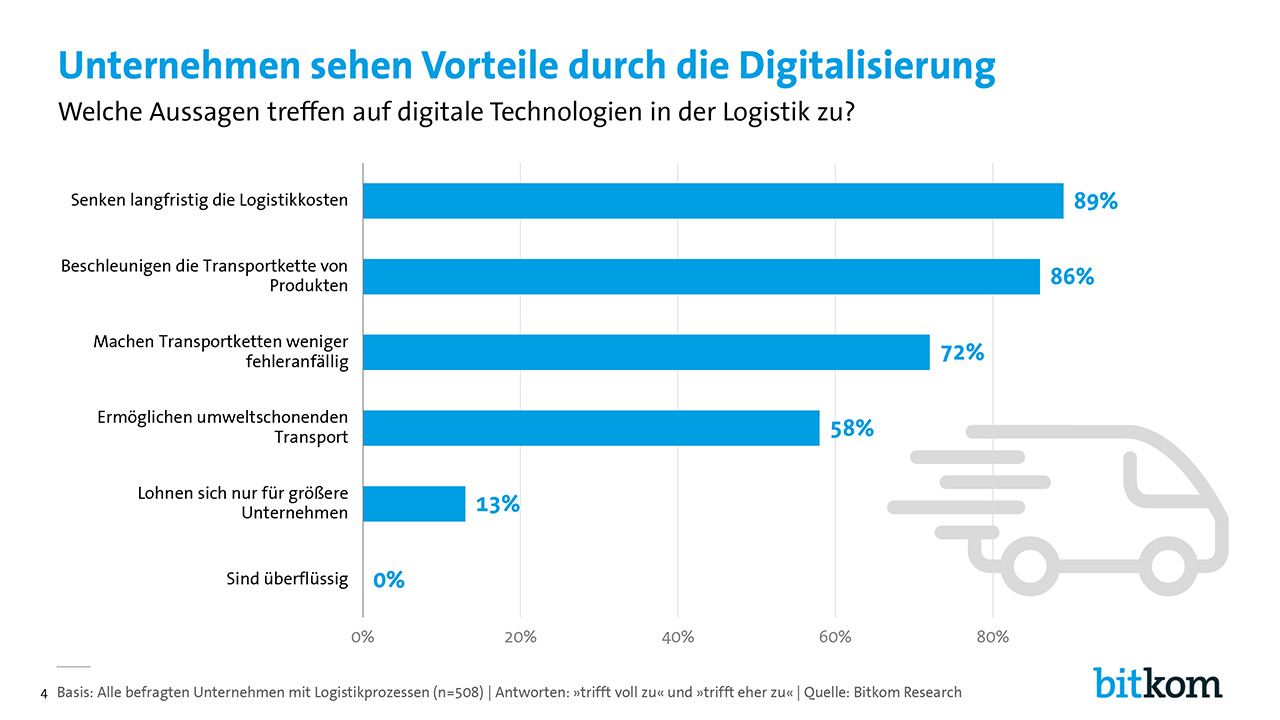 Softzoll supports your company in coordinating all logistical processes between everyone involved in your company's supply chains.The time-consuming and often error-prone manual processing of business-relevant data such as forwarding and shipping orders, inbound goods reports, or delivery orders are replaced by an EDI system specially tailored to your company's requirements. Complex logistical and all industry-typical processes are efficiently and reliably mapped by Softzoll's EDI solutions. 
Through automated electronic data exchange, the cost of processing a single transaction can be reduced by more than 90% in some cases. Much faster business processes allow companies to respond flexibly and directly to rapidly changing market requirements.
The most common logistic processes are defined within the EDIFACT syntax by corresponding message types:
FORTRAS—the industry-specific data format for EDI message exchange between logistics service providers and their business partners
A special EDI data exchange variant in the logistics industry is the FORTRAS (Forschungs- und Entwicklungsgesellschaft für Transportwesen) format. It was originally developed by System Alliance and has become somewhat of a standard for electronic data exchange between individual forwarding companies since 2001. In the light of this, almost all freight forwarders are able to process FORTRAS messages. What's more, this variant is also used by the customers of logistics service providers to handle the most important logistics processes in digitalized form with the freight forwarders and companies involved.
Three different message types are defined in FORTRAS:
The BORDERO message, in particular, is used by many freight forwarding customers to transmit forwarding orders to the logistics service provider. As FORTRAS messages are essential for data communication between individual forwarders and logistics providers, even smaller forwarders who may not have the possibility to exchange data on the basis of EDIFACT can be integrated into the digital loop with the help of FORTRAS EDI formats. In addition, although FORTRAS is de facto a proprietary ASCII/TXT format, it can easily be implemented with a programming tool of choice for use as an EDI interface in existing applications.
FORTRAS exists in various releases; the best known and most frequently used variants are FORTRAS Release 6 (also referred to as BORD128, corresponding to a variable record length of 128 characters) and its successor FORTRAS100 (also known as BORD512 with 512 record length and an extended scope of information compared to BORD128).