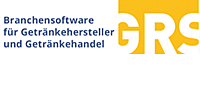 The advanced ERP system for the beverage industry
Gabert Rebstock Software GmbH provides breweries, soda fountain manufacturers, juice producers, press houses, and beverage retailers with modern and innovative industry products. Traceability, purchasing, and sales are the focus of the applications, along with the logistics processes. In the special add-on segment, GRS attaches great importance to qualified and experienced partners who meet the individual requirements of users in addition to offering their own industry solutions. For this purpose, GRS merchandise management provides various interfaces for the respective customer-specific requirements.
Requirements for a powerful EDI subsystem must not be underestimated
In the day-to-day practice of digital document exchange, there are some special features that need to be taken into account. The GRS-ERP can export delivery notices in the appropriate EDIFACT DESADV format directly from corresponding interfaces of the merchandise management system. An EDI subsystem must therefore be able to take these files unchanged from the ERP output and send them to the corresponding recipient via pure file routing using the required communication channels (X.400, AS2, FTP/sFTP, e-mail). In this context, users should attach particular importance to global EDI monitoring that also includes the routing processes. To receive RECADV inbound goods notifications, the EDI system should be able to make the contents of the original EDI EDIFACT messages available to the user in readable form (e.g., as a PDF file) and clearly assigned to the respective document via e-mail or transaction monitor.
Useful features of Softzoll for electronic data exchange in Europe
Especially when exchanging EDI data with foreign customers, GRS-ERP users need an additional functionality: many—especially European—EDI partners require a confirmation message in EDIFACT APERAK format, e.g., as a receipt for a previously received order (in ORDERS). As the GRS-ERP (like most standard ERP systems) does not provide a dedicated interface for this message type, the upstream EDI system must be able to generate these APERAK confirmation messages automatically and without further involvement of the ERP system as a receipt for each message previously received from the customer side, and to send them without manual intervention. In this context, it is helpful to have another function which checks whether an APERAK message has been sent for each relevant incoming document, and which triggers an appropriate alerting if the APERAK receipt is missing. In addition to these functions, which make the daily workflow even simpler, the Softzoll tools are also able to provide the required content and test routines in connection with credit notes, receipts, in- and outgoing empties, cancellations, or tastings in readable form without great effort. This makes it possible to fulfill the customer's requirements for process data quality quickly, pragmatically, and cost-effectively.