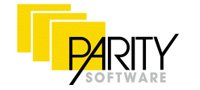 Parity.ERP has the right module for each of your processes
Parity.ERP is a customizable merchandise management system for small and medium-sized companies that can be flexibly adapted and expanded as needed thanks to its modular structure.PARITY.ERP solutions allow all company processes to be mapped: all company processes can be digitized and thus supported across the entire value chain—from purchasing to warehousing, sales and shipping.
For electronic data exchange, the ERP system supports the common communication protocols X400, AS2, FTP, SFTP and OFTP.
Softzoll partners for Parity.ERP
Burkhard Schüssler GmbH specializes in solutions and integration scenarios related to PARITY.ERP. Manufacturing companies often require additional functionalities to expand their merchandise management system. PARITY.ERP has special modules for everything from preliminary costing to order evaluation—as well as for data exchange and EDI. The applications and services of Softzoll GmbH are used here on a regular basis for EDI purposes.