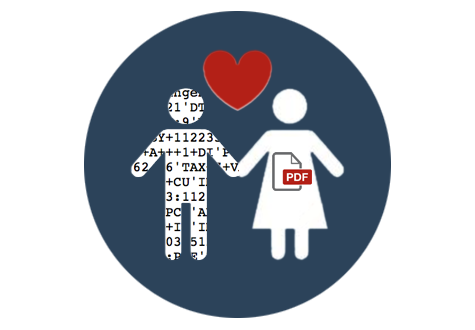 Die Pärchen Nummer: EDI-Dateien mit externen PDF-Quellen mergen
PAIRING: MERGING EDI FILES WITH EXTERNAL PDF SOURCES
Generating readable EDI file content is a standard feature of all Softzoll EDI solutions. It is generally needed in order to allow non-IT colleagues from specialist departments to access the content of the original EDI documents when necessary, e.g., in the event of EDI document-related partner inquiries.

Another use case occurs if, when delivering ERP documents to the EDI system, a second ERP component creates PDF files that are to be transferred to the addressee along with the original EDI file. Especially in the area of invoice dispatching, some invoice addressees require a corresponding PDF file with the identical content to be transferred along with the EDI document. Here, there is a distinction between synchronous (EDI and PDF files are transmitted in one single sending process) and asynchronous (EDI and PDF files are transmitted in separate sending processes) modes. From a technical point of view, only the automated assignment of EDI and PDF documents to each other has to be ensured here. This unambiguous referencing is normally ensured by a corresponding naming convention on the basis of the file name or by generating a dedicated directory structure.

A particular request variant arises when dynamic diversification occurs at the document addressee end. In practice, when invoices are sent, a large and varying number of invoice addressees must, for example, then be sent PDF and/or EDI documents. In particular, when sending invoice documents by e-mail, this diversification can quickly lead conventional models to the limit of commercial entitlement. In order to avoid the creation and maintenance of an appropriate master data pool in the external EDI system, the recipient addresses can, for example, be provided in the file names. A separate dispatcher in the Softzoll solution portfolio extracts the relevant recipient address from the file name and on this basis, generates the automated sending of the document data by e-mail to the included recipient addresses.
Keywords
Softzoll, EDI, EDIFACT, EDI file enrichment, sending invoices, invoice documents, automated sending, external EDI system, PDF data, synchronous sending, asynchronous sending