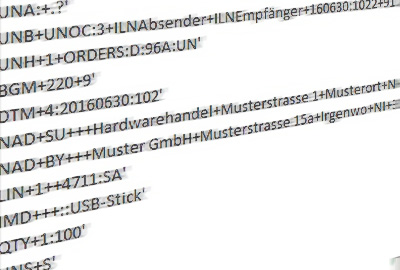 One of the oldest and at the same time most widespread business processes / message types exchanged via EDI is the ORDERS process. Especially in trade, it is one of the standard EDI message types used in EDI data traffic. Although this process also exists in the automotive sector, the corresponding VDA message type plays only a minor role in contrast to the DELFOR delivery schedule.
The EDI business process ORDERS has different names in the various EDI formats:
ERP integration is a challenge!
In terms of its semantic requirements, this EDI process can certainly be described as rather clear. To process it, only a data set of 15-20 core pieces of information is required. From the point of view of the recipient of EDI orders, however, the integration effort on the ERP side is quite significant in some cases. Unlike the genesis of document types to be sent via EDI, the integration logic of incoming EDI document flows on the part of the merchandise management system, in particular, represents a process-related challenge. For example, many suppliers of electronic order documents refrain from taking over unreviewed price information into EDI orders as part of the import of this order data via an ERP interface of the respective merchandise management system. Instead, the price information transmitted by the EDI partner is overwritten on an item basis by the prices stored in the supplier's ERP system. Alternatively, as part of the ERP import process, an automated or manual check can take place upstream by the administrator before the EDI order document is transferred into the processing routines of the ERP system.
Incorrect documents due to integration gaps cause preventable costs
Nevertheless, from the supplier's point of view, the EDI document ORDERS plays a decisive role when it comes to reducing costs in the context of electronic EDI document processing. Avoiding integration gaps not only saves the personnel expenditure for activities that can be automated, such as the re-entry of documents that are already available in electronic form on the sender's side (typing of faxes, e-mails, etc.); the error sources in the context of the manual entry of paper documents are also reduced quite considerably by a consistent implementation.Because it still holds true that every faulty document in the ERP system generates costs!