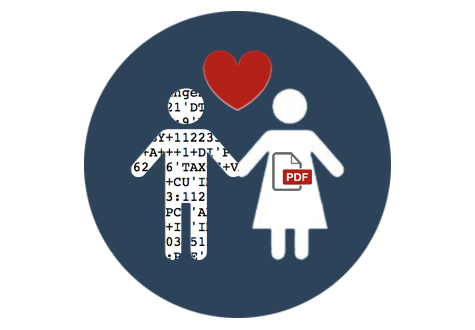 PAIRING: MERGING EDI FILES WITH EXTERNAL PDF SOURCES
PAIRING: MERGING EDI FILES WITH EXTERNAL PDF SOURCES
Das Erstellen lesbarer Inhalte von Original EDI-Dateien ist eine Standard-Funktionalität aller Softzoll EDI-Lösungen. Die Notwendigkeit ergibt sich generell daraus, IT-fernen Kollegen aus den Fachabteilungen im Bedarfsfall Zugriff auf die Inhalte der Original EDI-Belege zu ermöglichen, z.B. für den Fall EDI-belegbezogener Partnernachfragen.

Ein weiterer Anwendungsfall tritt ein, wenn mit der Übergabe von ERP-Belegen an das EDI-System eine zweite ERP-seitige Komponente PDF-Dateien erstellt, die zusammen mit der originären EDI-Datei an den Empfänger übermittelt werden sollen. Especially in the area of invoice dispatching, some invoice addressees require a corresponding PDF file with the identical content to be transferred along with the EDI document. Dabei kann man zwischen synchronen (EDI- und PDF-Datei werden in einem Sendevorgang übermittelt) und asynchronen (EDI- und PDF-Datei werden in getrennten Sendevorgängen übermittelt) unterscheiden. From a technical point of view, only the automated assignment of EDI and PDF documents to each other has to be ensured here. This unambiguous referencing is normally durch eine entsprechende Benamungskonvention anhand des Dateinamens oder die Genese einer dedizierten Verzeichnisstruktur gewährleistet.

Eine besondere Anforderungsvariante entsteht, wenn seitens der Belegempfänger eine dynamische Diversifizierung auftritt. In practice, when invoices are sent, a large and varying number of invoice addressees must, for example, then be sent PDF and/or EDI documents. In particular, when sending invoice documents by e-mail, this diversification can quickly lead conventional models to the limit of commercial entitlement. In order to avoid the creation and maintenance of an appropriate master data pool in the external EDI system, the recipient addresses can, for example, be provided in the file names. Ein gesonderter Dispatcher innerhalb des Softzoll Lösungsspektrums extrahiert die jeweilige Empfängeradresse aus dem Dateinamen und generiert auf dieser Basis den automatisierten Versand der Belegdaten via eMail an die inkludierte Empfängeradresse.
Stichwörter
Softzoll, EDI, EDIFACT, EDI Dateien Anreicherung, Rechnungsversand, Rechnungsbelege, automatisierter Versand, externes EDI System, PDF Daten, synchroner Versand, asynchroner Versand