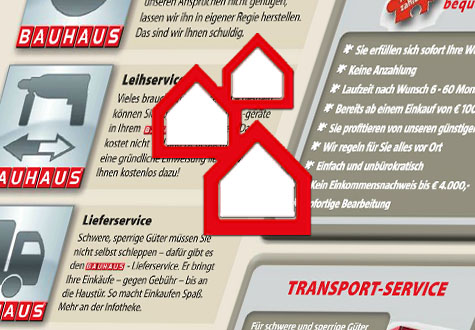 BAHAG Online-Shop Integration mit OSTRPT: Teil 1: Bestellprozess
BAHAG Online-Shop Integration mit OSTRPT: Teil 1: Bestellprozess
Die BAHAG AG fordert Lieferanten auf, zusätzlich zu dem schon seit längerem im Einsatz befindlichen klassischen Bestellprozess auch die Bestellungen aus dem BAHAG Online-Shop in einem vordefinierten Szenario zu verarbeiten. For all suppliers who are not competent in EDI, BAHAG offers a corresponding online portal. To minimize the manual workload, the entire order process for the orders generated in the online store can also be automatically mapped by classic EDIFACT messages; this process chain, however, requires a few specifics that make considering the process sequence from a holistic point of view necessary. The end-customer orders generated in the BAHAG online store are initially processed by internal BAHAG mechanisms before being transferred to the supplier in a particular variant of the EDIFACT ORDERS message. Der Gesamtablauf lässt sich zur Veranschaulichung generell in 3 Blöcke gliedern, die gesondert zu betrachten sind und auch hinsichtlich der Verarbeitungsmechanismen jeweils eigene Anforderungen stellen:
Bestellungen

Storno-Management

Retouren-Management
Der folgende Text befasst sich mit den Anforderungen des ersten Anforderungskomplexes zur Verarbeitung der Online durch den Endkunden generierten Bestelldaten, die zusätzlichen Anwendungsbereiche werden in weiteren Blogeinträgen gesondert betrachtet. Analysiert man die durch die BAHAG AG zur Verfügung gestellten Informationen, lässt sich die Prozesskette zur automatisierten Verarbeitung der Online-ORDERS in 5 Teilbereiche untergliedern.
Bestellung des Endkunden via Online-Shop an BAHAG

Bestellung von BAHAG an den Lieferanten mittels EDIFACT-Nachricht ORDERS

Bestellbestätigung vom Lieferanten an BAHAG mittels EDIFACT Nachricht OSTRPT (ORDERS STATUS REPORT)
Bei KEP/Paketdienstleistern: Versandbestätigung vom Lieferanten an BAHAG mittel EDIFACT-Nachricht OSTRPT (ORDERS STATUS REPORT)

Bei Speditionsauslieferung: Avisierung des Liefertermins vom Lieferanten an den Endkunden mittels Telefonat

Bei Speditionsauslieferung: Lieferbestätigung vom Lieferanten an BAHAG mittels EDIFACT-Nachricht OSTRPT (ORDERS STATUS REPORT)
Diese kurze Betrachtung des Gesamtprozesses zeigt einerseits, dass der Prozess ggf. require manual interaction. Ersichtlich wird aber auch, dass die Nachricht OSTRPT (ORDERS STATUS REPORT) je nach Position im Gesamtablauf unterschiedliche Bedeutungen transportiert, die durch spezielle Status mittels Qualifier gekennzeichnet werden.

Die drei wichtigsten und obligatorischen Status sind:
5: Bestellung ist eingegangen

24: Ware wurde an den Transportdienstleister übergeben

21: Bei Speditionslieferung – Lieferung wurde erfolgreich zugestellt, Kunde hat den Warenerhalt schriftlich bestätigt
Daneben gibt es eine Reihe von optionalen Status, die v.a. die diversen Varianten der Lieferdetails abbilden.
Aus Sicht des Lieferanten ist es wichtig zu wissen, dass es sich bei den eingehenden Bestellungen i.d.R. ORDERS messages, which may have only some order items, i.e., that an individual order is triggered for each end customer and therefore overall a large number of ORDERS messages is to be expected. Processing of these inbound ORDERS is not a problem in a high-performance EDI system; it should, however, be noted that a corresponding OSTRPT message must also be generated for all inbound ORDERS and sent to BAHAG. To keep the manual workload as low as possible, Softzoll therefore offers a specific module that automatically acknowledges inbound messages from the BAHAG online store with an OSTRPT message. Die dazu benötigten Nachrichteninhalte für die OSTRPT-Rückmeldung müssen nicht via ERP-Schnittstelle übergeben werden, sondern werden durch das EDI-System automatisch mit den Inhalten der eingegangenen ORDERS von BAHAG befüllt und mit dem "Status 5" (s.o.) als erfolgreich eingegangen versehen und versendet. Diese Funktionalität trägt dem Umstand Rechnung, dass die meisten ERP-Systeme im Standard keine geeignete Schnittstelle für den Prozess OSTRPT aufweisen und vermeiden auf diese Weise die Kosten für ein darauf ausgerichtetes dediziertes ERP Projekt.
Diese Funktionalität ist ausreichend, um den Teilbereich 5 (s.o.) abzudecken. Für die erfolgreiche Realisierung des Teilbereichs 4 (Versandbestätigung) benötigt man jedoch eine erweiterte Funktionalität. The most important elements for complying with the BAHAG specifications are semantic in nature; for this reason, the "parcel service" and "dispatch number" must be delivered to the EDI system. Because in most cases this is dynamic data content, delivery of the data via ERP interface is often compulsory. This delivery from the ERP system to the EDI system can therefore relativ einfach dadurch erreicht werden, in dem die Schnittstelle für ausgehende Liefermeldungen (DESADV) um die relevanten Inhalte erweitert wird. On the basis of a qualifier to be agreed on bilaterally, the Softzoll EDI system recognizes whether it is data intended for generating OSTRPT messages. In this way, it is possible to separate this data stream from the traditional delivery notices and to use it only to produce the OSTRPT messages. Werden über diese Schnittstelle auch die diversen OSTRPT-Status versorgt, generiert das EDI-System je Statusänderung automatisch einen OSTRPT-Beleg an BAHAG.
Eine zusätzliche Herausforderung kann dadurch entstehen, dass die durch BAHAG generierte Online-Shop Bestellnummer/ID nicht im ERP-System importiert, weitergeführt und für die Genese der OSTRPT-Nachrichten via Schnittstelle an das EDI-System übergeben werden kann. This online store order number/ID is, however, usually compulsory in all relevant document interchanges. Ein spezielles Zusatzmodul von Softzoll extrahiert die Online-Shop Bestellnummer/ID aus den eingehenden ORDERS des BAHAG Online-Shops und hält diese in einer separaten Datenbanktabelle vor (Standard Speicherdauer: 7 Tage). Bei der Genese der relevanten OSTRPT-Nachrichten wird diese Information dann automatisch hinzugefügt. The prerequisite for this feature is merely the possibility of referencing the ERP interface's outbound data bis auf Positionsebene.
Stichwörter
Softzoll, EDI, EDIFACT, BAHAG, Online Shop, Integration, Lieferanten, Bestellung, Bestellprozess, Bestellbestätigung, Liefermeldung